At Gesgrup we are experts in human resources and we stand out for our specialisation in the outsourcing of logistics services, providing the most appropriate human and technical capital due to our in-depth knowledge of the sector. We perform an integrated management of the service, standardise processes and offer a complete solution for the total guarantee of quality to our clients.
Gesgrup has divisions specialised in in-house logistics outsourcing , industrial, FMCG (Fast Moving Consumer Goods) and auxiliary services.
We have a strong Iberian presence, including the Balearic Islands, Canary Islands and Portugal. We belong to Grupo Constant, so we are able to offer temporary work and, with over 40 offices, be close to our clients and collaborators and respond quickly to their needs.
Years of
experience:
15
years
Average number
of employees:
2,000
employees
Special
Employment Centre:
100
workers with
disabilities
Number of
clients
+250
clients
Annual
turnover:
53
Million euros
Our Mission
We aim to be a leading company in logistics outsourcing, industrial services, handling and auxiliary services with solid long-term partnerships with our clients by offering excellent service.
What are we doing to achieve this?

Specialising in sector outsourcing.

Focus on continuous improvement.

Results and productivity oriented.

Maximum service vocation and responsibility.

Capturing talent and helping them reach their potential.
Our values
At Gesgrup we take the quality of service we offer very seriously, and we always deliver it with the values that represent us:
1
Authenticity
We value our origins and act with conviction, honesty and dedication to respect them.
2
Ambition
We continually explore how to diversify our services and improve their quality to meet our clients' needs.
3
Respect
We show and promote the utmost respect and recognition to our employees and clients.
4
Adaptability
We are ready to adapt our services to the needs of our clients.
5
Commitment
We are committed to working for the welfare and loyalty of employees and clients, as well as helping social organisations related to health, children and disadvantaged groups.
6
Efficiency
We look for new management models that allow us to obtain the desired result both in internal processes and in services offered with the necessary resources.
We constantly strive to be a better company for our clients and collaborators. For this reason, we always have our sights set on transforming our company into a larger one:
Sectores que confían en nosotros

Food and beverages

Courier and parcels

Logistics

Pharma

Industrial

Fast-moving consumer goods
Interactive map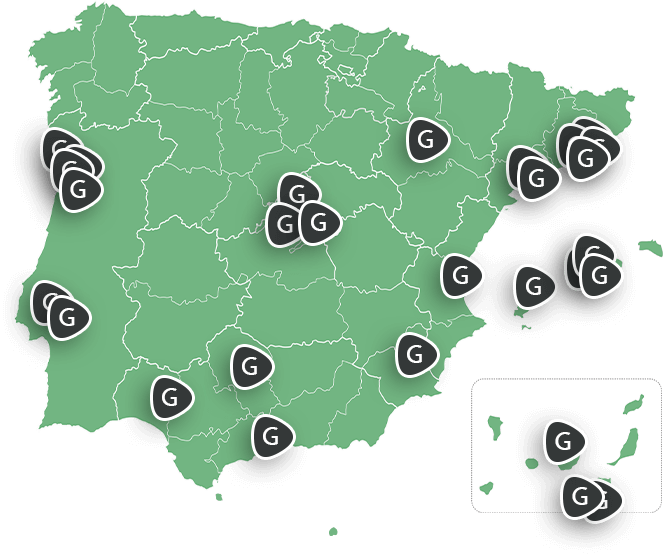 Iberian Presence. Balearic and Canary Islands included
Discover our interactive map!
Central Offices:
Barcelona: Avinguda Diagonal, 523, Edificio Atalaya, Planta 21
Madrid: C/ Alfonso Gómez, 42C / C.P 28037
Lisboa: Rua Manuel de Jesus Coelho, nº4, 4º Andar, 1150-220
National Offices:
Alicante / Barcelona / Córdoba / Ibiza / Las Palmas / Madrid
Málaga / Murcia / Palma de Mallorca / Sevilla / Tarragona
Tenerife / Valencia / Zaragoza