Within Grupo Constant we have a Special Employment Centre (CEE) that allows us to promote the integration of people with disabilities in the labour market, in equal professional conditions and through the different activities that we develop in the Group.
Thanks to the in-depth knowledge of our professionals in the different sectors in which we operate, we offer a broad portfolio of effective and innovative solutions with the best quality-price ratio on the market.
80% of the staff at our special centre have a physical or intellectual disability of over 33%, so our mission is to enhance their skills and ensure complete adaptation in their jobs.
By belonging to a large group of HR and service experts, CEE is the ideal partner to provide you with high quality services and help you achieve compliance with the LGD (former LISMI).
Outsourcing of personnel with disabilities
Our Special Employment Centre offers the service of hiring groups with disabilities to any company that needs to hire employees with some degree of disability.
The General Law on Disability (LGD) requires public and private companies with more than 50 employees to hire a percentage (minimum 2%) of people with disabilities equal to or greater than 33%. Complying with the LGD is possible thanks to the Group's Special Employment Centre, which specialises in helping this group enter the labour market.
The action of hiring people with disabilities is not only beneficial to complying with the General Disability Law but also provides a better working environment and reinforces the diversity policy of companies.
Our Special Employment Centre helps you select candidates and accompanies them in their training so that their insertion into the labour market is as quick and easy as possible.
Frequently Asked Questions About the SEC
What are the benefits of hiring people with disabilities?
If you are wondering if there is any benefit to hiring people with disabilities, the answer is absolutely.
Not only because of the image that a company can convey by hiring people with disabilities, but also because this group, when they start working in a company, tends to have a very positive attitude and a real commitment to the company.
This attitude generates a much more dispersed and peaceful work environment, while other workers tend to eliminate possible discrimination and stereotypes, allowing for more inclusive and respectful environments.
Is it important to take into account the type of disability when selecting a candidate?
Depending on the tasks to be performed, yes. Therefore, it is important to know about some of the different types of disabilities that exist.
Physical disability: they have a significant decrease in the capacity of movement of one or more parts of the body which prevents them from moving with full functionality.
Sensory disability: exists in cases of visual and/or hearing impairment.
Psychic disability: is caused by disorders in the individual's behaviour.
Intellectual disability: condition of a person when they have difficulty learning at expected levels because it affects cognitive functioning.
However, whoever is hired, they will have a real commitment to the company that will generate productivity and, at the same time, the pride of belonging like the rest of the employees.



This action is promoted and subsidized by the Departament d'Empresa i Treball, and 100% funded by the REACT-UE fund as part of the European Union's response to the COVID-19 pandemic.
Why Grupo Constant's Special Employment Centre?

Capacity to select people with disabilities at national level.

Sectorial specialisation through the experience of Grupo Constant and the knowledge acquired in the different sectors in which we operate. We offer solutions adapted to the specific needs of each sector and industry.

Possibility of price variability.

Proximity to the client and personalised service. Knowledge of your needs is the foundation on which the growth and design of our organisation has been based.

Experience in payroll subrogation.

We have a team of professionals at your disposal who will help you find the best solution for each of your needs.

Advice for our clients on the processing of Exceptionality Certificates and on how to manage such regulations.

Flexibility in decision making. Our organisational structure allows us to proactively detect areas for improvement in the company and implement the necessary changes in the shortest possible time.
1. Outsourcing of services:
We provide the resources and the technical and human means necessary for the correct performance of the service outsourced by our clients, taking full responsibility for the entire activity.
Handling
In-house logistics services
Complete office cleaning
Gardening and green spaces
Destruction of confidential documentation, safe-keeping and digitisation
Reception, customer service and access control
2. Human Resources Services:
We offer the main services in the following areas:
Staff selection: search for the most suitable candidates for our clients' needs, evaluating their competency profile and suitability for the work environment, with a six-month guarantee from their incorporation.
Temporary employment: thanks to Personal 7, a temporary employment company belonging to the same Group, we are able to select the most suitable staff with disabilities for our clients.
Our commitments

Quality assurance:
Grupo Constant's work processes maintain the highest quality standards. We have our own auditing system that evaluates the services at a qualitative and quantitative level.

Safety at work:
Our priority is the safety of each of our employees. We have our own Prevention Department that closely monitors compliance with each of the evaluated measures.

We care about the environment:
Our total commitment to reducing chemicals, single-use plastic products and paper consumption.  In all our services we use environmentally friendly materials.
Interactive map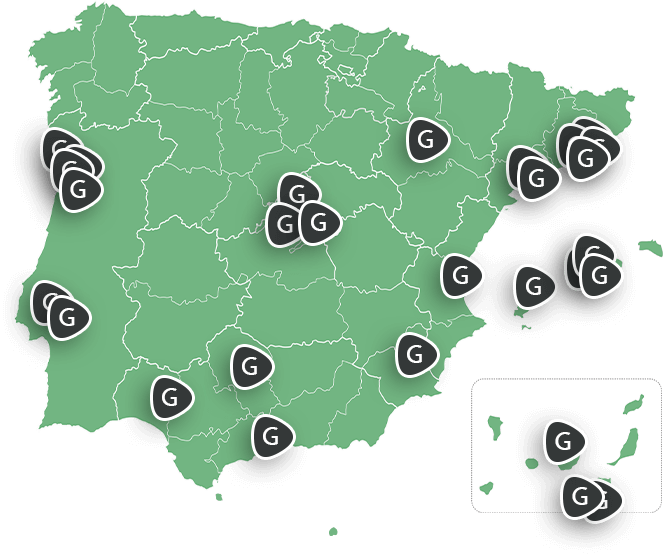 Iberian Presence. Balearic and Canary Islands included
Discover our interactive map!
Central Offices:
Barcelona: Avinguda Diagonal, 523, Edificio Atalaya, Planta 21
Madrid: C/ Alfonso Gómez, 42C / C.P 28037
Lisboa: Rua Manuel de Jesus Coelho, nº4, 4º Andar, 1150-220
National Offices:
Alicante / Barcelona / Córdoba / Ibiza / Las Palmas / Madrid
Málaga / Murcia / Palma de Mallorca / Sevilla / Tarragona
Tenerife / Valencia / Zaragoza